* New Rishikesh, India Dates will be July 6th-July 10th, 2020 :-)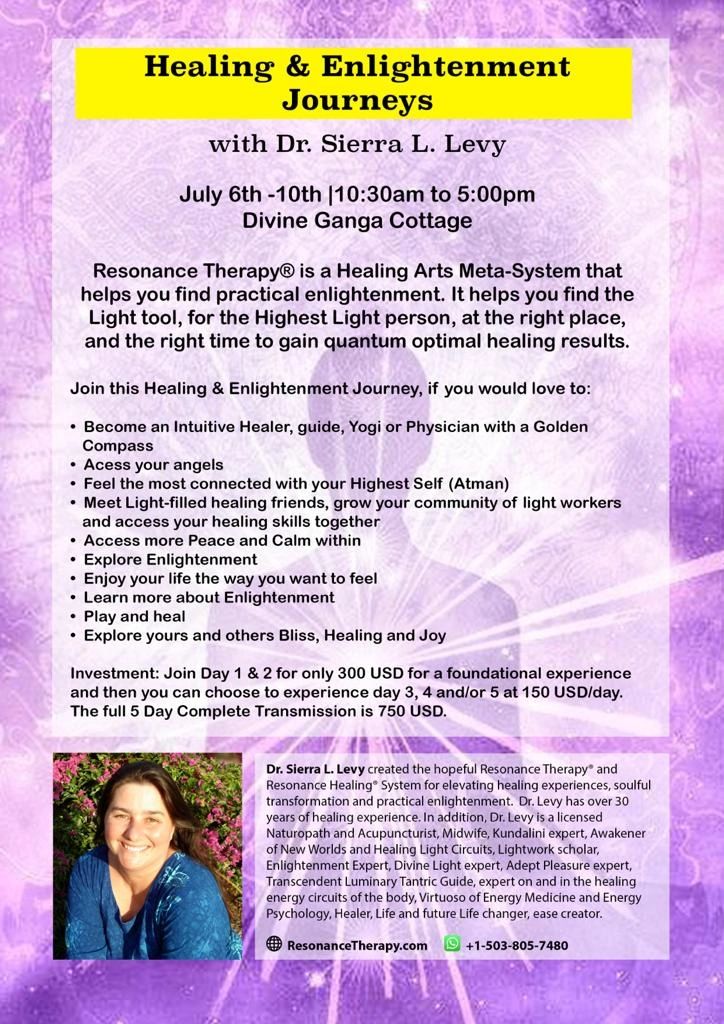 RESONANCE THERAPY SEMINARS WILL HELP YOU TO:

* Find your Enlightened Highest Self.
*Find the Right Tool for the Right Person at the Right Place at the Right Time.

* Learn to develop PERSONALIZED ENERGY MEDICINE, ENERGY PSYCHOLOGY & ENERGY SOCIOLOGY PROTOCALS based on you or your clients individual needs quickly and effectively without "wasting time".

* Learn to wade through megabytes of information in fractions of seconds.

* Learn to work with individuals, couples, groups and corporations.

* Be able to apply resonant tools and resonant maps right away for your use.
RESONANCE THERAPY INTENSIVE CLASS SCHEDULE
WELCOME TO A FUN FILLLED 6 DAY INTENSIVE
Day one:

* Intro to the resonant map and the resonant mapping process.
* Learning to think multi-dimensionally and yet effectively and precisely.
* Opening the senses (inner and outer as well as gross and subtle).
* Demonstration Learning.
* Running energy for clean testing.
* Working with the subconscious.
* Learning to protect one's self.
* Muscle testing and surrogate muscle testing.

Day two:

* How to find priority.
* Working with permission.
* Emotional freedom technique and tapping + stretch*.
* Reversals + stretch*.
* Tapas acupressure technique + stretch*.
* Balance.
* Creating a safety net in between treatments.
* Working with goals.

Day three:

* Individualized acupoint tapping technique and Chinese meridian/organ work.
* Simple and "long" permanence.
* Tailor making lists for interventIons and intro to numerology.
* Working with couples; families; children; groups; corporations; etc.

Day four:

* Becoming an intuitive physician and accessing the intuitive physician within.
* Tapping into the True Self.
* Working on the timeline and throughout time.

Day five:

* Chakra and kundalini work.

Day six:

* Archetypes.
* Supernatural infections.
* Allergy work.
* 100% Ability to have a successful practice.
*Stretch was developed by Dr. Levy as a way to "think and feel" out of the standard, traditional box for the most effective and precise treatments.
Below are flyers to help you feel what is available in Resonance Therapy Classes :-):
*************
**********
*************